LOOK offers many extra accessories to adjust your cleats and get the most enjoyment out of your rides.
Compensation spacers: available in 3 thicknesses (1, 2 and 5mm), they fit between the cleat and the shoe to balance your position or compensate for differences in leg length.
Q-factor rings: placed between the crank arm and the pedal, they increase the distance between the two and hence the Q-factor of the pedals, allowing you to adjust the alignment of ankle, knee and hip if necessary.
LOOK KEO SPACER flat sole spacers: some shoe models are designed with "flat" soles. You might experience some annoyances if the curvature of the sole doesn't perfectly match the curvature of the cleat, such as noise, play or excessive wear. These can be avoided thanks to the KEO SPACERS, which rectify the issue for a perfect fit.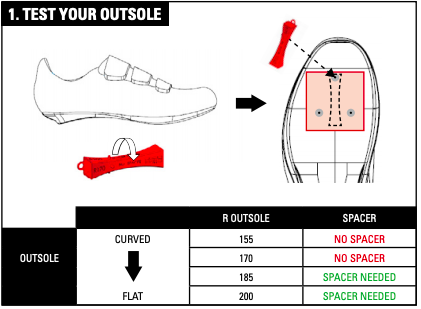 For more information on LOOK KEO SPACER setup, watch the video:

You can find the LOOK KEO SPACERS on our website.